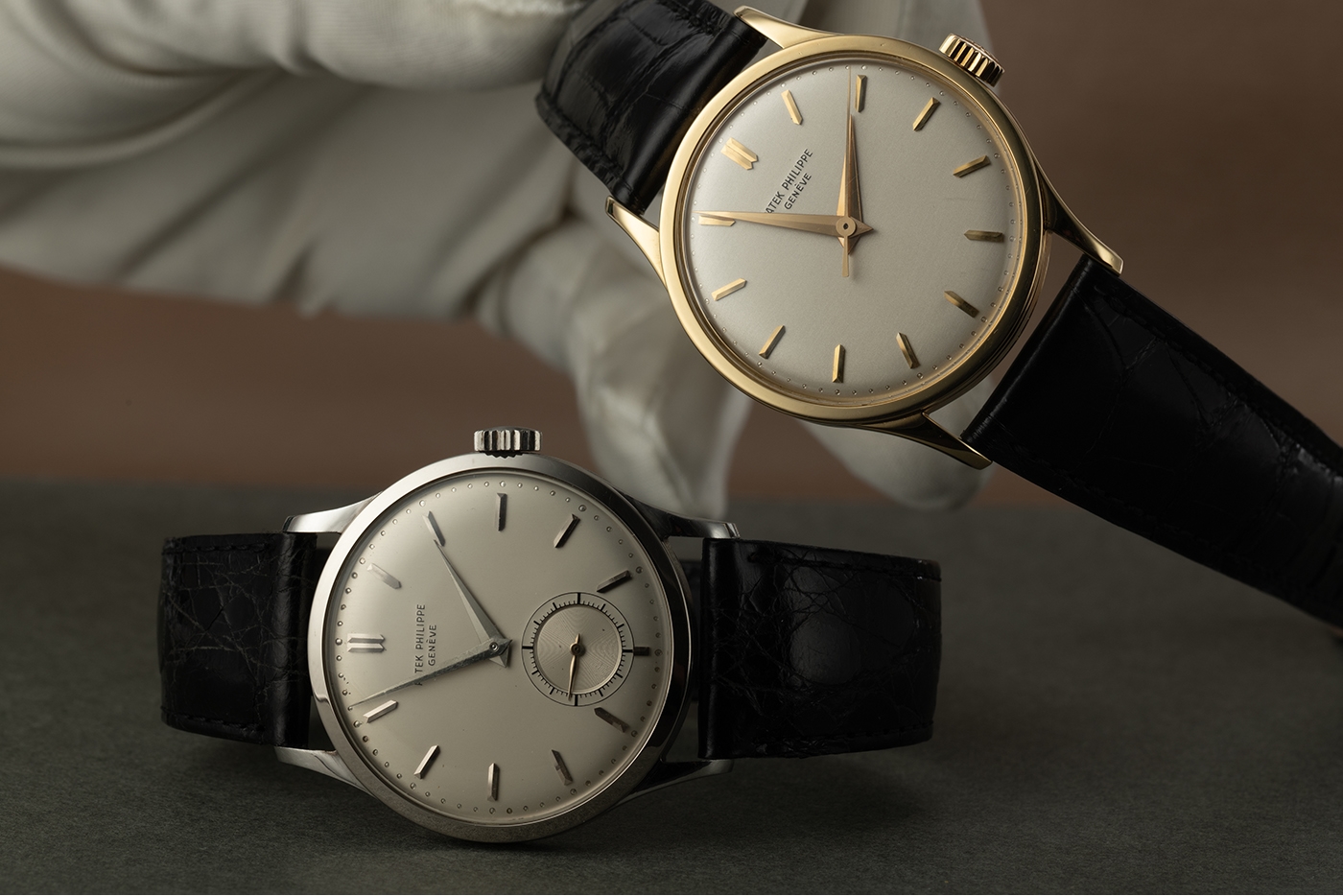 Top-grade Geneva-made wristwatches are among the best anywhere, and usually have price tags to match their reputation. But there is a class of these hand-finished vintage rarities that represents exceptional value: the elegant Calatrava.
According to Patek press information published around 1968, their total daily production was a mere 38 watches. This is a staggeringly tiny number, given Patek Philippe's reputation as the city's top producer, at the industry's mid-century peak. This translates into fewer than 800 watches a month. There really is no doubt that Calatravas and similar 'classic' Pateks from that era represent phenomenal value.
Looking at our own data, in the years between 2008 and 2016 Watch Club sold around 155 Calatravas. Of those, only 38 were vintage. That's fewer than 5 a year!
Limited production is nothing unless it's backed up by solid technique, and Patek Philippe generously lavished the most superior horology into these otherwise restrained watches. Let's take a look at a handful of some of these features, which are impossible to find for the money in any other watch.
"In 1968, their total daily production was 38 watches, a staggeringly tiny number."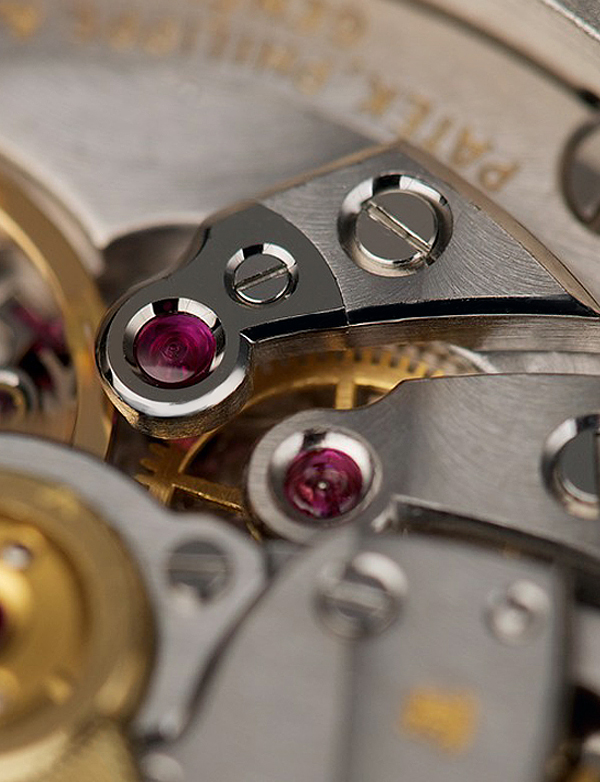 This polished steel plate on the escape wheel cock holds in place a special ruby bearing, called a cap jewel. Cap jewels are normally only used for the balance, not gear-wheel bearings.
Patek use this ruby to take the weight of the escape wheel when the watch is laying down. It helps to equalise the amount of energy consumed between the upright and flat positions. This apparently simple feature was expensive to apply because it needs a special escape wheel and many extra manufacturing steps. We expect no less from these high-grade watches that were designed to outclass all their peers.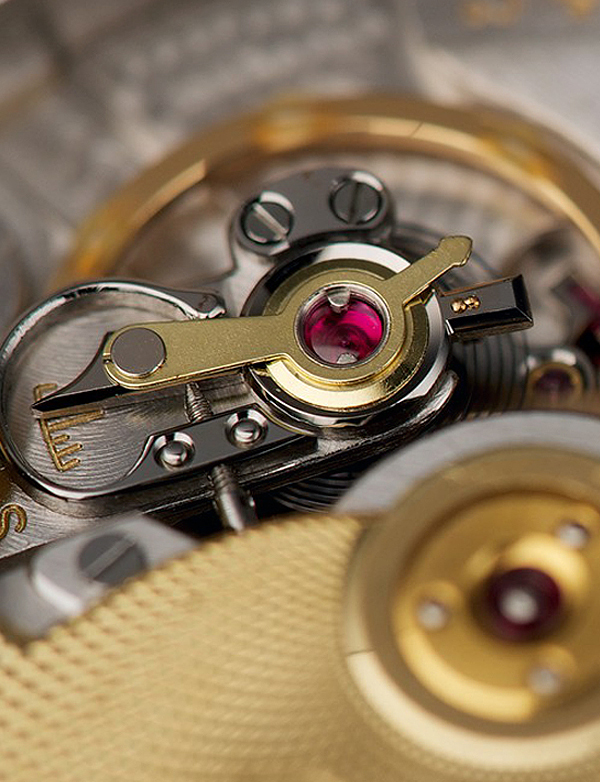 Nowadays small steel parts like the swan's neck regulator are quite easy to make. They can be carved out of pre-hardened spring steel by wire erosion or laser, needing only hand-finishing.
In the 1960s things were very different. These flat steel parts had to be roughed out using traditional cutters, then hardened in a red-hot furnace, followed by a lot of hand work. Polishing was done with arcane powders like alumimium oxide, which took much longer and demanded more mastery than the diamond polishing pastes used today. So any time we see beautiful steel work like this in a vintage watch, we have extra respect for it.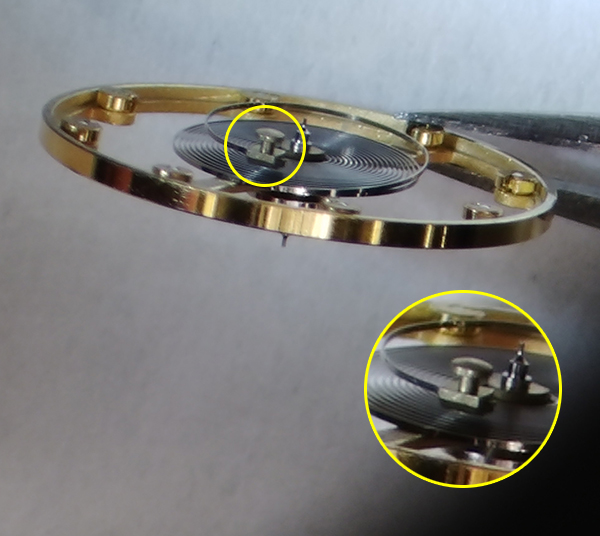 The balance springs in these watches are of exceptional quality. Later examples are free-sprung, whilst the earlier ones tend to have the swan's neck regulator mentioned above. Either way, the the spring's precise shape was hand-tuned by experienced specialists. But all this bending could leave the spring prone to stresses that affect the escapement. To allow the spring to settle in its most un-stressed position, these top-quality Geneva watches have their springs attached by a little mushroom-shaped stud. This allows the spring to settle before being clamped into place. This photo shows the Geneva-style stud at the end of a vintage Patek balance spring.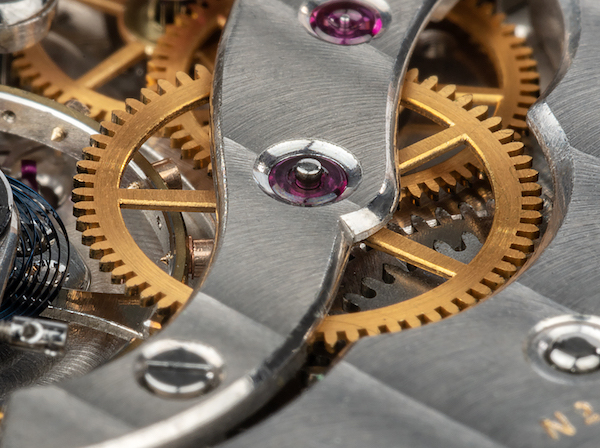 The 'spokes' or crossings of the wheels have a tiny bevel on all their interior edges. Even in high-grade watches now, this bevelling (which the Swiss love to call 'anglage') is typically stamped into the wheel blanks along with the crossings, followed by hand-smoothing and finishing. Make no mistake, this is still work for master craftsmen, but in vintage watches, they had to start from nothing – no pre-pressed bevels. Next, there are the hand-made bevels on the edges of the bridges and cocks. These were also painstakingly filed, polished and burnished by hand.
Whether its their technology, their supremely classic style, or the steady and predictable returns offered by this elegant family Pateks, the Calatrava has something for every collector.