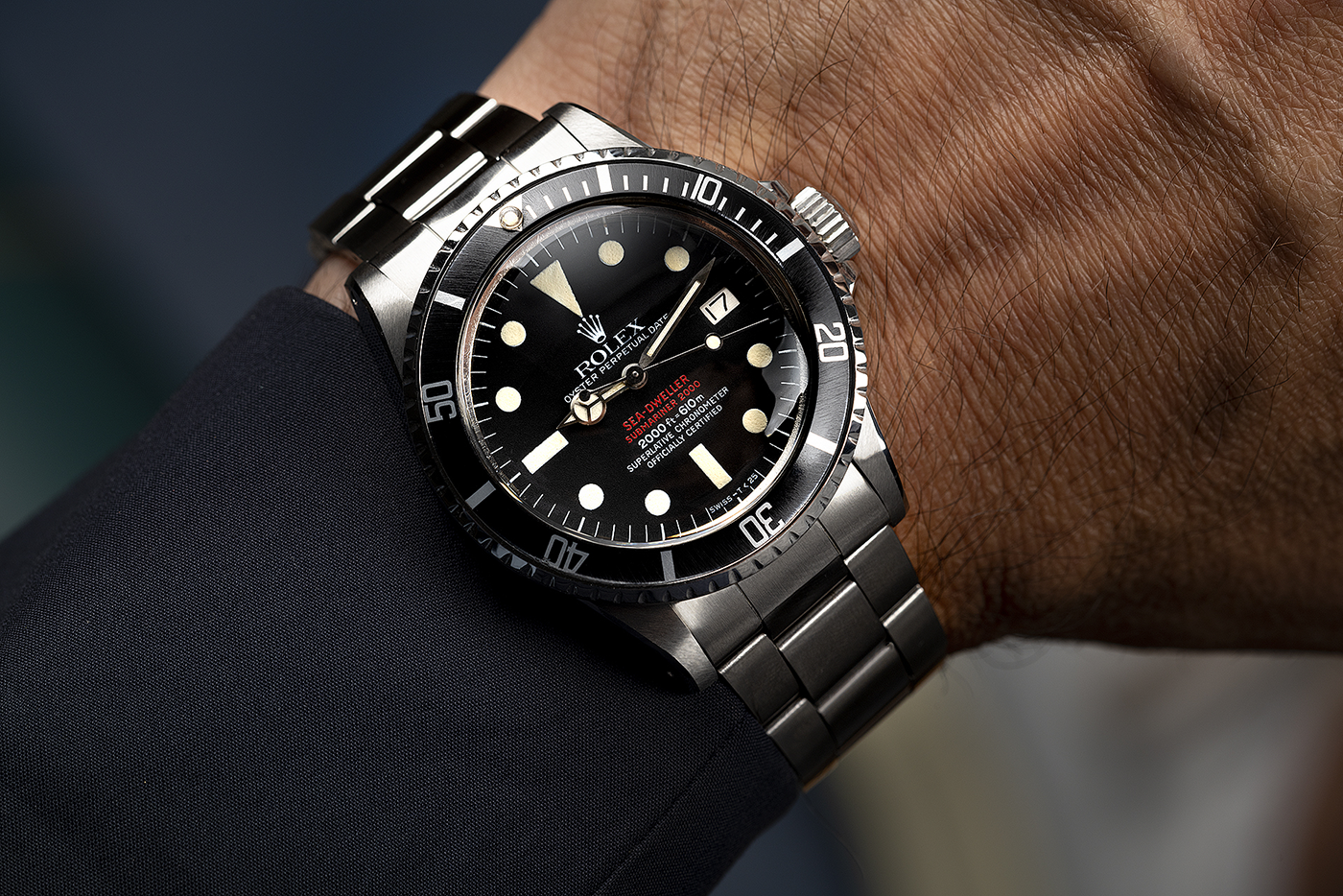 Clear, factual information about watches like the Rolex Sea-Dweller is hard to find. Useful information for collectors, like production dates, technical features and model numbers is often buried disconnected within dozens of books, thousands of words of online articles, and in primary sources like old Rolex price lists and catalogues.
With our experience in this field (our first wristwatch timeline was published in 2012) we've taken all that information and distilled it here in one place, in a simple, readable form. Our graphical timeline follows below, after a brief introduction to the Rolex Sea-Dweller.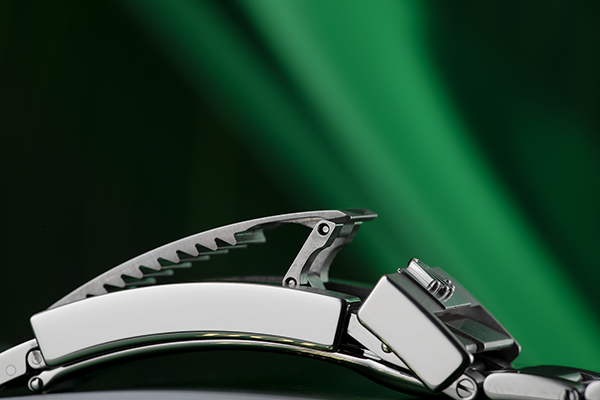 To keep the information clear and simple, we've excluded the minutiae of dial sub-variants, complex "MK" mark-revisions, and serial number ranges. We've summarised years of production, model numbers, calibre numbers, depth rating, collectors' nicknames and relevant connected information.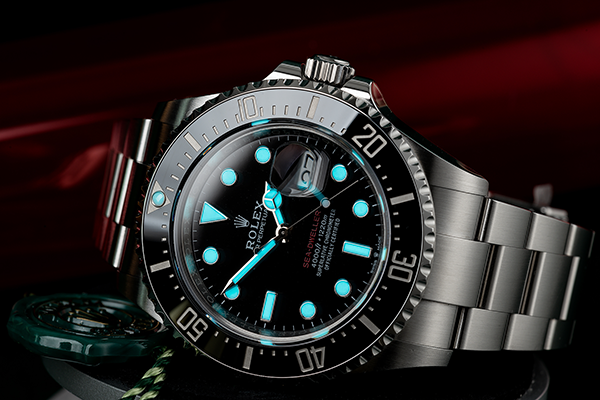 The Rolex Sea-Dweller is a watch made for professional divers – those engineers, researchers and exlorers who spend long periods underwater. It is derived from the Rolex Submariner, but Rolex beefed it up to endure much greater pressure.
Later, it was discovered that helium from divers' hyperbaric chambers could migrate straight inside their watches causing them to burst upon ascent. Rolex therefore endowed the Sea-Dweller with its ubiquitous gas-escape valve, allowing those early Hydronaut and Aquanaut scientist-divers to safely wear their Rolex watches during long cycles of decompression.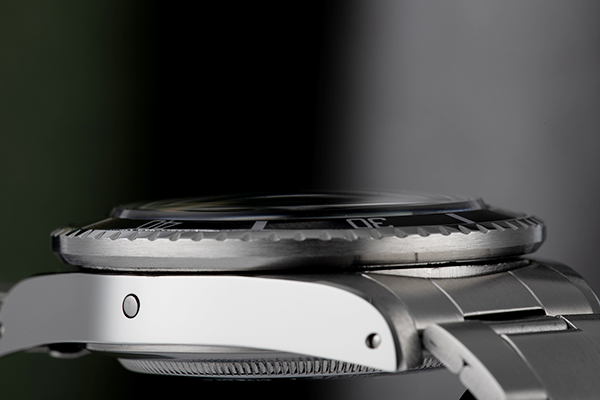 With its helium-release valve and virtually incompressible body, the Rolex Sea-Dweller therefore sits aloof in the realm of technical Rolex watches. Its singular function doesn't transpose to any other activity, making it the perfect example of a pure instrument.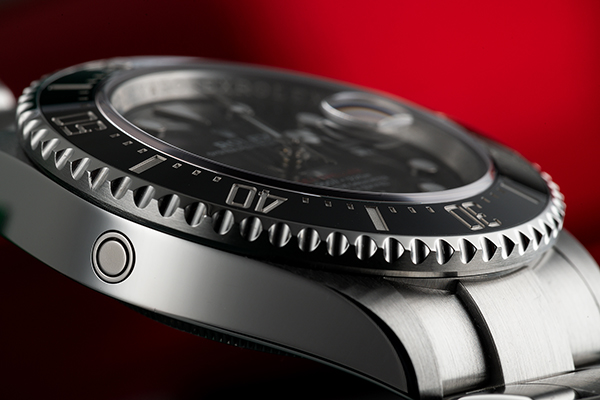 The Sea-Dweller is also striking because of how stable the model has been within the Rolex range. The first model, 1665, was produced for 16 years (albeit with progressive technical improvements).
The later 16600 was in the catalogues for nearly 20 years, almost unparalleled as Rolex models go.
In that time, very few of these watches were actually produced. Watch Club records imply that for the "aluminium bezel" era watches, less than 1 Sea-Dweller made an appearance for every 10 equivalent Rolex Submariners.
Such low production numbers validate the idea that Rolex has always treated the Sea-Dweller entirely as an instrument for professional divers and not as a mere commodity.
If you're a collector, it also points strongly where to focus your attention. Most Sea-Dwellers, whether Double-Red, Great White, early sapphire, or the current range of Deepsea and Sea-Dweller 43, still represent excellent value, even as perfect examples with box and papers are now commanding the very high prices that their rarity demands.
Here's the need-know-summary of everything about the Rolex Sea-Dweller. Scroll down for the graphical timeline.

• 1953: Rolex begins to supply watches to the "Hydronaut/Aquanaut" marine scientist Auguste Piccard; this includes experimental models to be attached to the outside of his "Bathyscaphe" submarine, the Trieste. Piccard and his son, Jacques, make further and further excursions into the ocean's depths.

• 1960: Jacques Piccard and Lt. Don Walsh make a world-record descent to Challenger Deep, at 10,911 metres. Again they have a Rolex "Deepsea Special" watch affixed to the outside of the Trieste.

• 1967: Rolex begins to supply experimental "Sea-Dweller" dive watches (model 1665, with a single red line of text on the dial) to scientists intending to inhabit the sea-floor for long periods. Some watches begin to burst upon resurfacing, due to the expansion of pressurised helium from their undersea habitats that had slowly made ingress into the watches. Rolex makes a patent application on 6 November for a self-acting "Gas Escape Valve" whereby the watch automatically purges excess pressure. A few examples are then retro-fitted with this new device.

• 1969: Depth rating increased from 500m/1650ft to 610m/2000ft. Two lines of red printing appear on the Sea-Dweller dials, later dubbed "Double-Red". The Sea-Dweller is still an experimental watch, not available for general sale.

• 1970: Patent on the Rolex Gas Escape Valve is granted on 15 June 1970. Commercial models available to the public soon follow.

• 1978: A new model Sea-Dweller with lab-grown sapphire crystal is introduced (model 16660, dubbed "Triple Six"). Overlapping production of the original model 1665, but the red printing is now abandoned in favour of all-white. This is nicknamed "Great White".

• 1983: Cessation of Sea-Dweller model 1665.

• 1984: 16660 dial is updated to gloss black, with now-standard metal surrounds framing the luminous markers. This is nicknamed "Bicchierini". Previous model gets nicknamed "Palletoni".

• 1989: "Triple Six" discontinued and replaced with model 16600.

• 2008: Sea-Dweller 16600 production ceases during this year. In this final year, Rolex makes a special edition Sea-Dweller 16600 for the Italian state police SCUBA divers ("Sommozzatori"), whose Octopus emblem is printed onto the watch dials.

A new range, the Sea-Dweller Deepsea, is introduced, with the model number 116660.

• 2012: Rolex sends experimental watches back to the Mariana Trench, with film-maker James Cameron as he successfully descends alone in the footsteps of Piccard and Walsh. This Rolex "Deepsea Challenge" is affixed to the outside of the craft.

• 2014: "Classical" Sea-Dweller is re-introduced, as model number 116600, dubbed "Sea-Dweller 4000".

116660 Sea-Dweller Deepsea gets an additional dial colour option with its own name: D-Blue.

• 2017: 50th Anniversary of the Rolex Sea-Dweller. Model 116600 is replaced with 126600. Single line of red printing on the dial, just as the first pre-production models "Single Red". New calibre 3235 is used; also first cyclops magnifier on a Sea-Dweller.

• 2018: 126660 Deepsea (D-Blue style only) slightly revised, with wider bracelet, case lugs modified to accomodate, and longer minutes- and seconds hands. This model also obtains the new calibre 3235.

• 2019: 126660 Deepsea (Black dial) gets same revision as D-Blue from 2018.

126603 – first ever precious metal used in a Sea-Dweller, the steel & gold Sea-Dweller.

• 2022 (spring time): Both colours of Deepsea are again revised. New model number 136660. Slimmer bezel, larger date aperture, no longer has diver's bracelet-extension link.

• 2022 (November): New model – Rolex Sea-Dweller Deepsea Challenge. Rated for extreme depth (11,000m/36,090ft). Titanium case and bracelet (in Rolex proprietary alloy "RLX Titanium"). 50mm wide case.

Acknowledgements
Image of early model Deepsea Special, courtesy of Phillips (Auctioneers). Illustrations of Deepsea Challenge, models 136660 and 126067, Rolex Watch Company Press. Further detailed information about the single-red Sea-Dweller on perezcope.com.