23 November 2019
The Orbita Lunae – Andersen's Enigmatic Moon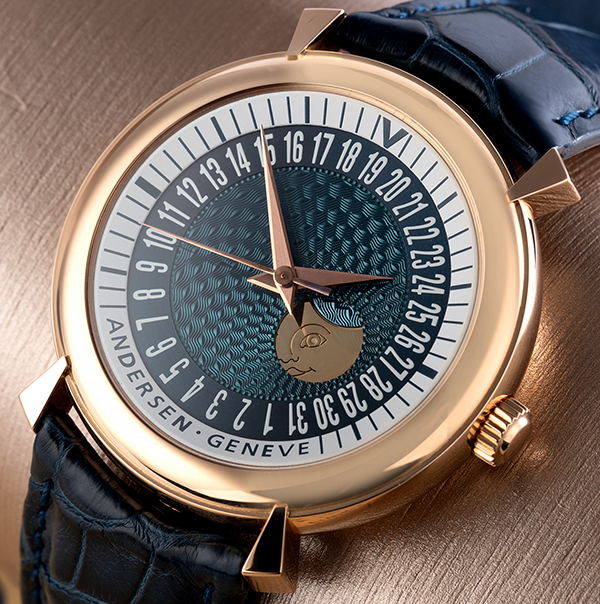 As long ago as the late 1970s, Svend Andersen had sufficient vision to set out alone, independent of any watch brand. This was at the peak of the 'quartz crisis' when nothing about the Swiss watch industry was certain. He left the safety of his position at Patek Philippe's grand complication department and began to make unique complications for collectors. He co-founded the AHCI in 1985, as a community for similarly-minded independent watchmakers.
Watches by independent watchmakers do not often appear commercially outside private sales or the auctions; at Watch Club we were delighted to be able to buy one of Svend's iconic pieces and find it a new home.
______________________________________________________
One of Andersen's trademark techniques is the alluring blue gold oxide seen on the dial of this Orbita Lunae. Employed by only a handful of specialists, this effect is best known on the Patek Philippe Ellipse. More recently Cartier used it to exquisite effect on their Ronde Louis Cartier XL, where progressive layers created a palette of colours.
Andersen creates a high-carat gold alloy, bearing a small amount of iron. After engine-turning, it is then heated in air to several hundred degrees. Iron molecules in the alloy oxidise, but due to the small percentage of iron, and the fact that it is surrounded by the noble metal gold, the oxide only forms very slowly and gently. The result is a deep, rich blue on a precious metal base.
Slide left on these photos to see more blue gold.
______________________________________________________
The watch uses a rare system called the 'wandering moon'. Originally 'wandering' displays were the speciality of certain Italian clockmakers in the 1600s. Those clocks had 'wandering hours', and were illuminated from within by a the naked flame of a candle or oil lamp. Not surprisingly, very few have survived.
In Andersen's Wandering Moon, the central blue dial disc has a circular aperture that moves around anti-clockwise once a month. Behind it are a smaller blue disc, and a golden man-in-the-moon.
As the month proceeds, the golden moon also moves round, but at a slightly slower speed than the main disc. This gives the effect of the moon waxing and waning. The smaller blue piece fills in any remaining space.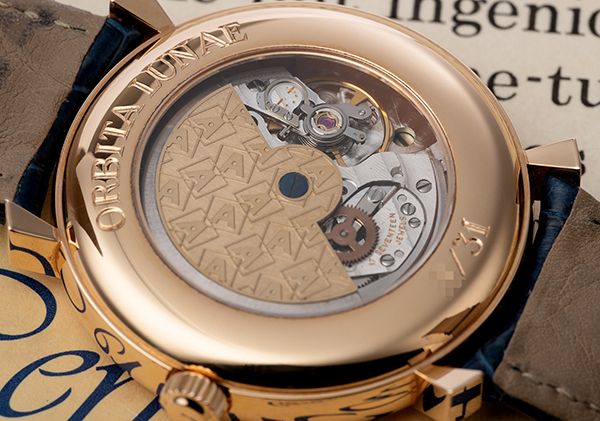 Movement
Andersen is well known for using classic vintage movements, re-purposing them in his complicated and automata watches. In the Orbita Lunae, the movement is an AS (A. Schild) calibre 1716, which, with Andersen's modidications is now badged as '1147 CD'. The movement was introduced in 1964 and is highly respected for its innovative design. It is thinner than most automatics of the period, at 4.1mm, with a ball-bearing winding rotor, auto-work integrated within the movement (rather than placed on top), has calendar work suitable for Andersen's innovative date and moon display, and is a beefy little thing with plenty residual power to drive the additional functions.
This piece ticks all the boxes that Watch Club demands of our watches: it is of superb quality, appealing to look at, represents a high level of craft, and vitally, holds its value in the long term.